Clap and Shout to God, Psalm 47:1
Clap your hands, all you peoples; shout to God with a jubilant cry.
-Psalm 47:1

Psalm 47 is a victory psalm. A song of celebration for God's victory. The original occasion may have been the move of the ark from Obededom to Mount Zion (1 Chron. 15:25).
Title:
God Our King, CSB
God Is King over All the Earth, ESV
God Rules the Nations, CEV
Praise to God, the Ruler of the Earth, NKJV
Our God Reigns, Don Williams
A Song of God's Kingship, Peter Craigie
The Universal King, W. Forsyth
The Universal Sovereignty of God, C. Short
Charles Spurgeon:
Psalm 47
Unusual and enthusiastic expressions of joy when justifiable and even desirable.
Joy is the true spirit of worship.
1. Joy in God's character.
2. Joy in his reign.
3. Joy in the triumphs of his gospel.
4. Joy in his favor to his saints.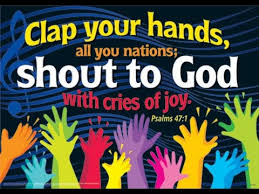 Adam Clarke:
"O clap your hands, all ye people; shout unto God with the voice of triumph."

This should be done,

1. Cheerfully: for this is a sign of inward joy.
2. Universally (all people)


3. Vocally (with the voice)
4. Frequently (sing, sing, sing, sing, sing: verses 6 & 7)
Matthew Henry:
Such expressions of pious and devout affection as to some may seem indecent and imprudent, yet ought not to be hastily censured and condemned, much less ridiculed; because if they come from an upright heart, God will accept the strength of the affection...


Applaud loudly, yelling, "bravo!" Raise your voices, shouting loudly, with great joy, and give honor to the True God of the universe.
-Psalm 47:1 (MSG)

The literal Hebrew is,
"Applaud all you peoples, shout out to God with a cry of praise."
(Peter Craigie)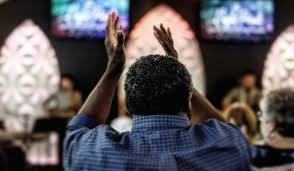 How much more should we applaud and go crazy with loud cheering for God, than we do at sporting events and concerts? We should praise God with enthusiasm and abandon, literally raising the roof. Why is our worship so held back, but it's okay to go crazy for other things? We have the privilege of and permission to cut loose with applause and shouts of praise to God.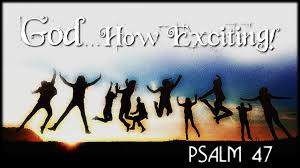 Clap your hands, all you peoples; shout to God with a jubilant cry.
-Psalm 47:1
This is a word cloud of Psalm 47, from 10 translations.
God, sing, praise, people, earth, king, nations, and lord were the most common words, in descending order.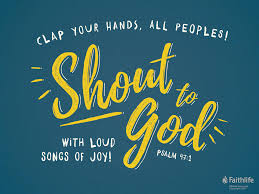 Psalm 47 is about the kingdom of God. Psalm 47 says that God is taking over the earth and that the nations and their leaders will worship him. Some scholars believe that this must mean that this psalm is about the second coming and the final victories of the Lord. I believe that it is actually about now, "His-story".
There are popular teachings that say things are going to get worse and worse, but the Bible actually teaches that things get better, even as some things seem to get worse; and that God is actually winning.
Psalm 47 is not just about past and future victories, but God's war plan now. The kingdom of God has been taking over the earth and God is not through winning! Things are getting better and that is why evil is showing itself.
We are worshiping God who's kingdom is taking over the earth. Nations are being saved and new leaders who honor God are arising. The church will be glorious and powerful as the bride she is meant to be.